Facts and Figures: Average Starting Salary and Potential
Commercial real estate is a rewarding and lucrative career—and in commission-based positions such as brokerage, your earning potential can be limitless.
CREW Network's most recent benchmark study report details the industry's average starting salary, and compensation trends across commercial real estate specializations, age and gender. The average salary for entry level positions in commercial real estate is $56,978. Mid-level/associates earn approximately $92,267, and senior level professionals earn $140,070 on average. At the senior vice president, partner and C-Suite levels, compensation averages range from $226,655 to $291,819.
The average compensation for industry professionals, including bonuses, compensation and profit sharing, was $150,000 for men and $115,000 for women in 2015. This gap of 23.3% between genders demonstrates that there is still a way to go to achieve gender wage parity—and CREW Network is leading industry efforts to close this gap.
Here's a breakdown of compensation averages in four specialties of commercial real estate: asset management, brokerage, development and finance: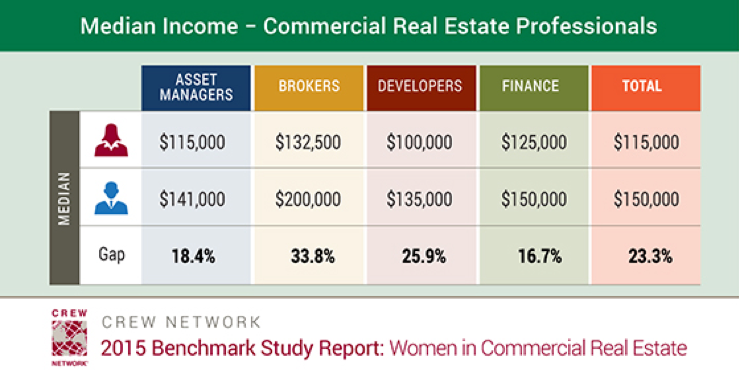 For more information on commercial real estate salaries and compensation trends, download the 2015 CREW Network Benchmark Study Report.
You might also be interested in...