Facts About the Real Estate Industry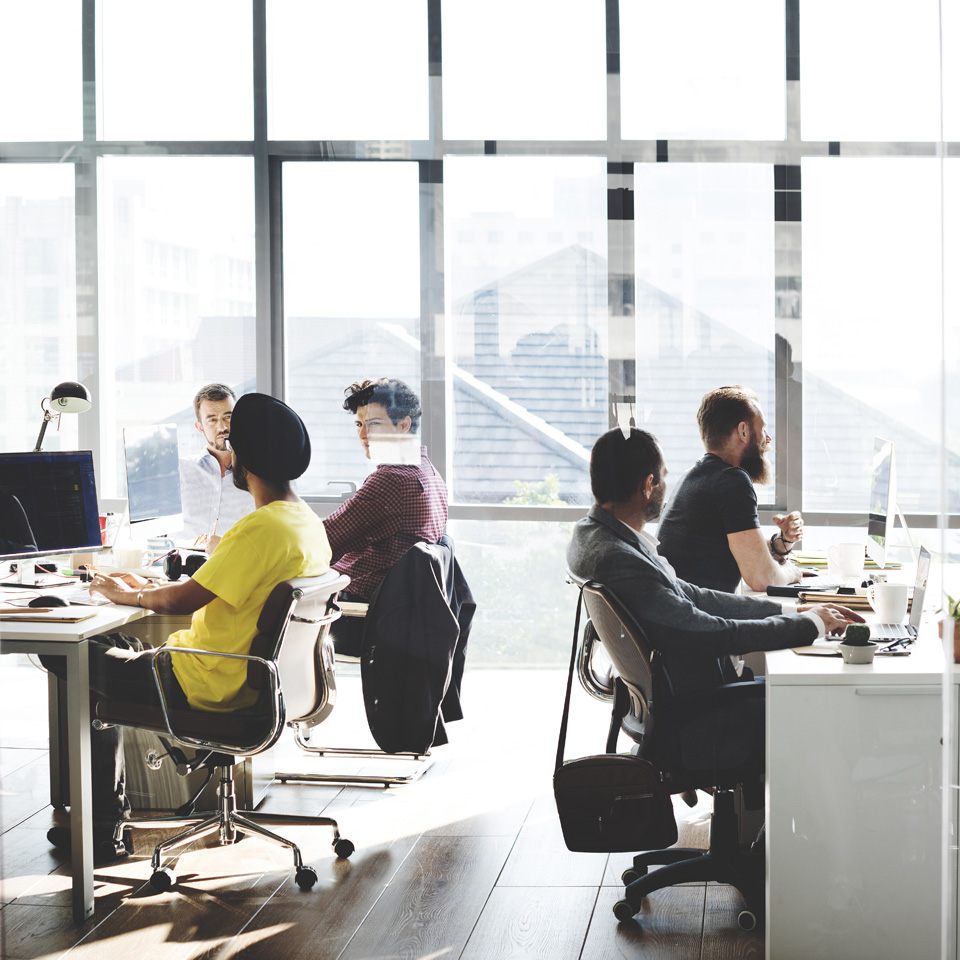 Apartments
There is a projected demand for 4.6 million new apartments between now and 2030. This demand will create more than 100,000 jobs.
In the last 12 months, 285,000 new apartments were completed.
U.S. Apartments and their residents contribute more than $3.4 trillion to the national economy each year.
The number of renters has reached an all-time high, with nearly 39 million people in the United States – that is almost 1 in 8 people living in apartments.
Architecture
Architecture is a highly paid career path in which you can earn $80k+ per year.
Architecture is a $1 trillion sector that accounts for almost 6 percent of the economy.
Commercial & Residential Real Estate Management
Commercial real estate professions support 1.7 million jobs and contributes $234.9 billion to the U.S. Gross Domestic Product.
Commercial Real Estate Development
The forecast for the remainder of 2020 remains strong at an average of 13.2 million square feet of office space absorbed per quarter and 12.7 million square feet per quarter in 2021.
The impact of new development of commercial real estate supports 9.2 million American jobs and contributes $1.14 trillion to the U.S. GDP in 2019 and generated $396.4 billion in salaries and wages.
Compensation is strong in the development sector, with starting salaries at $56K and increasing powerfully in mid-level and senior levels well up into 6 figures.
Growth in building size outpaces increases in building stock. Between the first Commercial Buildings Energy Consumption Survey (CBECS) (conducted in 1979) and the latest 2012 CBECS, the number of commercial buildings in the United States has increased from 3.8 million to 5.6 million, and the amount of commercial floorspace has increased from 51 billion to 87 billion square feet. A growing population has led to a need for more buildings, and the changing needs and wants of consumers has led to larger buildings.
The commercial building stock is middle-aged, and newer buildings are larger than older ones.  Commercial buildings remain in use for many decades. Although about 12% of commercial buildings were built since 2003, the commercial building stock is still fairly old, with about half of all buildings constructed before 1980; the median age of buildings in 2012 was 32 years. However, in the existing building stock, the newest buildings outnumber the oldest; there are more buildings built in the 2000s than buildings built prior to 1946.
Commercial Real Estate Finance
Commercial Real Estate Finance is one of the fastest growing sectors adding over 300,000 new jobs with a median annual wage at $63K+.
The Bureau of Labor Statistics estimates 20,200 real estate appraiser jobs will open up from 2016 to 2026 based on projected 5.8% employment growth over that same time period.
The Commercial Real Estate Finance industry provides $3.5 trillion in financing for office buildings, apartment properties, shopping malls, industrial properties and other income-producing real estate throughout the United States.
Commercial real estate is financed with more than $3 trillion in mortgage debt.
Construction:
Based on 2019 data, 550,000 additional Construction Workers are NEEDED TO MEET THE DEMAND IN 2020.
According to economic data, approximately 500,000 construction jobs are ready to be filled right now, and that number will increase with economic growth and forthcoming federal infrastructure legislation.
The Bureau of Labour and Statistics forecasts that construction will grow 11% and add 747,600 new jobs between 2016 and 2026 and creates nearly $1.3 trillion worth of structures each year.
Women in craft professional roles increased from 3% of the workforce to 12% between 2013 and 2018.
By industry, specialty trade contractors (2.8 million) accounted for almost half of employment in construction and extraction occupations. An additional 26 percent of employment was in construction of buildings (915,340) and heavy and civil engineering construction (574,960). Local government (330,490) was the industry with the highest employment of construction and extraction occupations outside of the construction sector.
Women in the U.S. earn on average 81.1 percent of what men make. The gender pay gap is much narrower in the construction industry. In construction, women earn on average 95.7 percent of what men make. Read more
The number of people employed as Construction Managers has been growing at a rate of 2.58%, from 494,048 people in 2014 to 506,818 people in 2015. The demand for construction managers is projected to grow 6.5% over the next ten years.
Consulting / Market Research
Median salaries for real estate consultants is $61K.
Corporate Real Estate
In today's world, there are approximately 476,700 construction managers employed and employment of construction managers is projected to grow 10 percent from 2018 to 2028, faster than the average for all occupations.
Property Management
Approximately 46% of Certified Property Mangers are self employed and 32% of them specialize in office buildings.
The average compensation of a Certified Property Manager with a bachelor's degree was $118,383 in 2020.
Facility Management
More than 50% of today's facility managers will retire in the next 5-15 years.
The facility management market was valued at $40.41 billion in 2019 and is expected to reach $81.49 billion by 2025.
The median annual salary for facility mangers is $98,921 as reported by salary.com in 2020 with 100% Job Placement for degreed graduates.
Interior Design
The U.S. Interior Design Service market is estimated at $150.7 billion in 2020 and growing!
According to the US Bureau of Labor and Statistics, the median annual wage for interior designers was $56,040 in May 2019.
Americans spend 87% of their time indoors and an additional 6% in an enclosed vehicle (on average). Design and building professionals are redesigning interior spaces, buildings, and communities to create healthier environments for the occupants.
Investment
According to the Association of Foreign Investment in Real Estate, approximately 80 percent of investors want to increase industrial exposure and 71 percent want to increase multifamily exposure, plus banks are well capitalized and producing gross revenues at levels that are the best in a decade adding to the magnitude of real estate investment in 2020.
Over the past two decades, women have achieved tremendous inroads in commercial real estate. For example, in 1984, only about 100 Certified Commercial Investment Members (CCIM) were women. Among today's CCIMs, more than 550, or about 13%, are women. More women are stepping into leadership positions in a number of industry organizations.
Landscape Architecture
Some 24,500 employees work in the landscape architecture field in the United States.
According to U.S. Department of Labor in 2019; the median annual wage for a landscape architect is $69,360.
Real Estate Appraisal
The real estate appraisal sector is projected to grow 3 percent from 2019 to 2029, with 75,100 jobs currently and median pay at $57,010 per year.
As of December 31, 2017, there were 82,208 active real estate appraisers. Almost 10% of the U.S. real estate appraisers held a license or certification in one or more states outside their home state. The proportion has increased steadily over the past five years.
Real Estate Investment Funds
REITs own more than $3 trillion in real estate assets and have outperformed the S&P 500 over the past 20 and 30 year periods.
REITs contribute an estimated 2.4 million full time jobs to the US economy.
There are more than 225 REITs in the U.S. registered with the SEC that trade on one of the major stock exchanges—the majority on the NYSE. These REITs have a combined equity market capitalization of more than $1 trillion.
Real Estate Technology
The total market size of smart buildings technologies can touch $81.6 billion by 2025.
AI usage grew by 270% in the past 4 years and by 2021, it is expected to reach a figure of $2.29 trillion in business value. In turn, this also means 6.2 billion hours of worker productivity globally.
Seventy-seven percent of Real Estate and Construction respondents agree or strongly agree that their jobs will change considerably over the next three to five years as a result of digital business trends.
Resorts, Hotels and Timeshares
With more than 1 million full and part-time jobs in the U.S., the timeshare industry has something for every employment option, career level and skill set.
There is a high demand for timeshares, with 9.6 million U.S. households that own 1 or more types of the product (timeshare weeks or points).
In total, the economic impact of the timeshare industry is about 10.2 billion.
According to a recent AAA survey, more than one-third of Americans (35 percent) are planning to take a vacation of 50 miles or more away from home involving two or more immediate family members this year. The resort and hospitality industry will continue to strategize on ways to attract a growing audience.
General
Population growth of people of color in the United States has outpaced that of white Americans for the past two decades, and by 2043 the U.S. Census Bureau projects the nation to become a majority-minority nation. Real estate organizations are addressing the need for diversity and inclusion and have strategic initiatives to attract new talent to all professions within the real estate industry.
There are roughly $142 billion to $163 billion in e-commerce sales mostly resulting from the online channels of brick and-mortar establishments! A significant portion of the Census Bureau's e-commerce sales figures are generated from brick-and-mortar retailers via their online channels. The complexion of the traditional shopping center is changing. A focus on food, beverage and entertainment are just a few ways to increase dwell time and keep the consumers engaged.
More than 200,000 U.S. service members are expected to transition into civilian life this year and in each of the next several years. As military personnel continue to transition out of active duty, the real estate industry offers diverse career opportunities.
On average, people around the globe check their phones 47 times a day. However, that number skyrockets to 86 times a day for younger people (those 18-24 years old.)
Consumers are sharing everything…from rides to bikes to wi-fi to spare bedrooms. Statista reports that the number of adults who use sharing – economy services is expected to grow from 56.5 billon in 2017 to 86.5 billion in 2021.