2020 CREW Network Benchmark Study: Gender and Diversity in Commercial Real Estate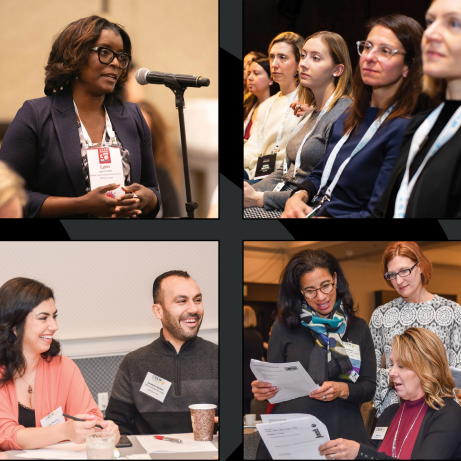 CREW Network's fourth benchmark study measures progress for women over the last 15 years and benchmarks diversity, equity and inclusion in the industry.
Executive Summary
The purpose of this study is to guide women, Black, indigenous and people of color (BIPOC) and other diverse groups of people striving to advance their careers in the industry, inform companies and managers about the values and priorities of their employees, and enhance the research and data for organizations that desire greater diversity, equity and inclusion (DEI).
This project, in partnership with the MIT Center for Real Estate, is made possible by Capital One Commercial Banking, CREW Network Industry Research Program Partner and leading underwriter of the 2020 study.
Study Participants
A total of 2,930 industry professionals across all commercial real estate sectors participated in the 2020 study between Jan. 2 and March 31, a 34% overall increase from 2015. (Note: All participant responses and market conditions should be considered pre-COVID-19 for the purpose of this study.) Participants include:
82.4% identified as women
17.5% identified as men
13% identified as BIPOC
3.3% identified as LGBTQIA+ (lesbian, gay, bi-sexual, transsexual, queer/questioning, intersex or asexual)
The study posed 77 questions and introduced eight new questions to examine DEI and workplace culture, and to garner country-specific data for Canada, the United Kingdom and the United States. Highlights and key findings of the study follow.
Progress for Women – An Overview
The study saw a 5.4% increase in women respondents 39 years old and younger, indicating a growing generation of young and emerging women professionals in the industry.
More women occupy brokerage positions than ever before (29%), a 6% increase from 2015.
More women (32%) are aspiring to the C-suite, a 4% increase from 2015.
Three areas where we continue to see a lack of progress:
Women occupy 36.7% of the commercial real estate industry. This percentage has not changed much over the last 15 years.
Women continue to earn less than men. In 2020, the fixed salary gap between genders is 10.2% and the commission and bonus gap is a staggering 55.9%.
Women continue to be less likely to reach top positions at their companies than men. Women still hold just 9% of C-suite positions in commercial real estate.
Compensation
Consistent with the last three studies, the 2020 study finds a substantial compensation gap between women and men. Overall, the difference in total average earnings (salaries, bonuses and commission combined) across genders in 2020 is 34%—a nearly 11% increase from 2015.
The average fixed base salary in commercial real estate in 2020 is $112,290 (USD) for men and $100,802 for women. The 10.2% salary gap means that, on average, women make 90 cents for every dollar that men earn in fixed salaries. For Black, Asian and Hispanic/Latinx women, the salary gap is wider. Black women make 85 cents, Asian women make 86 cents, and Hispanic/Latinx women make 80 cents for every dollar that men earn.

With regard to commissions and bonuses, the gender gap is much larger across all sectors. On average, women earn 56% less than men from commissions and bonuses. White women earn 51% less from commission and bonuses than men, while Black women earn 71%, Asian women earn 73%, and Hispanic/Latinx women earn 74% less than their male counterparts.

You might also be interested in...