2020 ULI Hines Student Competition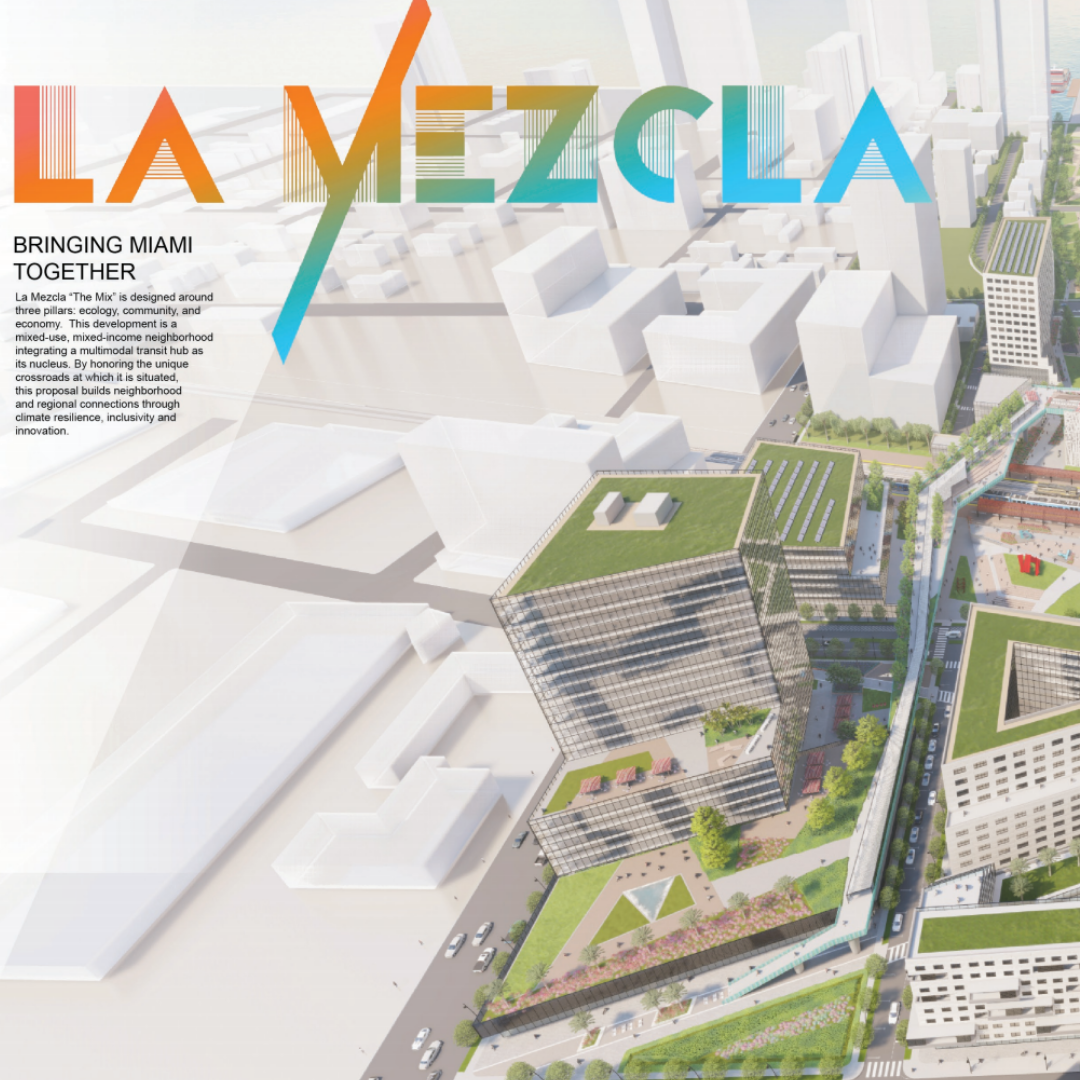 Team Representing Columbia University and Pratt Institute Wins 2020 ULI Hines Student Competition with Plan to Redevelop Miami Site
A redevelopment plan for a Miami site presented by a team comprised of students from Columbia University and Pratt Institute has taken top honors in the 2020 Urban Land Institute (ULI) / Gerald D. Hines Student Urban Design Competition. The ideas contest provides graduate students the opportunity to devise a comprehensive design and development scheme for a large-scale site in an urban area. Members of the winning team were awarded a prize of $50,000 at the conclusion of the competition on April 7. The remaining three finalist teams, with representatives from the University of Cincinnati, Cornell University, Columbia University and the Massachusetts Institute of Technology, each will receive $10,000.
While the competition normally takes place on-site, this year the competition pivoted to a two-day virtual experience and the students rose to the challenge. On the first day the students rehearsed their plans in front of seven experts and ULI members in Southeast Florida, and the following day they presented their plans virtually to a 12-person jury of ULI members from around the country.
This year's competition involved an area in midtown Miami, split between the Wynwood and Edgewater neighborhoods. The Florida East Coast Railway bisects the study area, where students evaluated the potential to create a thriving, mixed-use neighborhood around a commuter train station, while considering issues of housing affordability, sustainability, and resilience in their proposals.
The four teams that advanced to the final round of the competition were chosen from 113 teams with students from 42 sponsoring universities and 56 campuses, including 21 multi-campus teams, in North America and beyond.
"On behalf of ULI, I want to congratulate the winners and finalists of the 2020 ULI Hines Competition," said ULI Global CEO W. Edward Walter. "I commend them for the creativity and hard work that got them to the final stage of this competition. I also want to thank our jury members, who have devoted countless hours of their own time to reviewing and debating the proposals put before them. We welcome all of the competitors to ULI's network of problem solvers and thought leaders, and I can't wait to see their impact on the built environment of the future."
The winning plan from Columbia University and Pratt Institute, "La Mezcla", is designed around three pillars: ecology, community, and economy. This mixed-use development proposal creates an environmentally sustainable community that remains relevant through ensuing climate change. The development seeks to bring together the socioeconomic diversity that exists between Wynwood and Edgewater despite the physical and perceived barrier on the site.
The La Mezcla team was comprised of Duane Martinez, Master of City and Regional Planning, Pratt Institute; Jonathan Hong, Master of Real Estate Development candidate, Columbia University; Matea Kulusic, Master of Real Estate Development candidate, Columbia University; Matthew Mitchell, Master of Architecture candidate, Pratt Institute; and Pavel Petrov, Master of Real Estate Development candidate, Columbia University.
"Our team agrees that the ULI Hines Competition was one of the single most challenging endeavors of our graduate experience, both from a development and design perspective," said Hong. "We embodied the spirit of La Mezcla as we were able to leverage our diverse backgrounds, prior professional experience, and unique perspectives in pursuit of a common goal. We were excited to present a strong united vision that was centered around the three pillars of community, ecology, and economy. This helped us to set the framework that we could all stand behind and be proud of, and we look forward to  building on our competition experience in our careers to come."
You might also be interested in...