ABC's 2023 Young Professional of the year: Matt Terry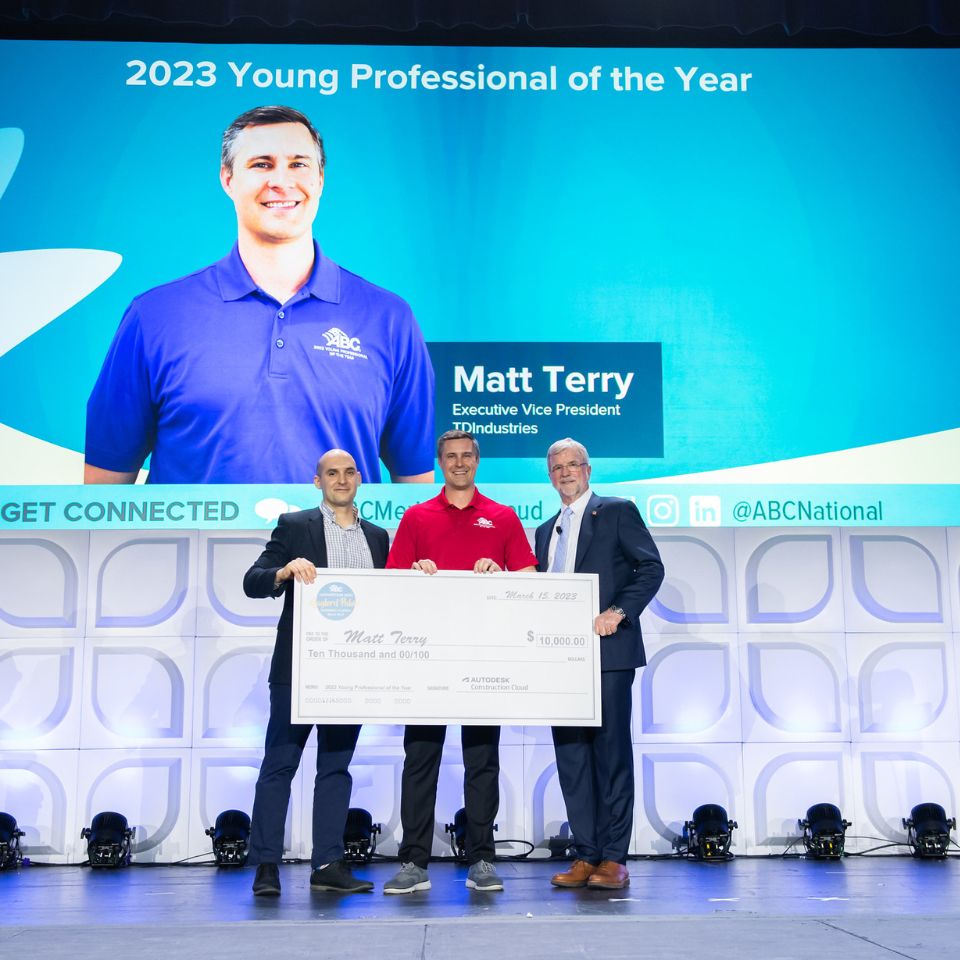 Associated Builders and Contractors today announced Matt Terry, executive vice president for TDIndustries, Dallas, received ABC's 2023 Young Professional of the Year Award during ABC Convention 2023 in Orlando, Florida, on March 15.
The Young Professional of the Year is an industry professional under the age of 40 who is employed by an ABC member company and is chosen based on leadership qualities, career achievement and vision for the future of commercial and industrial construction. Terry, 40, was selected based on his contributions and dedication to the industry and ABC.
"Young construction leaders like Matt ensure that the future is bright for the business community and industry," said 2023 National Chair of the ABC Board of Directors Milton Graugnard, executive vice president, Cajun Industries LLC, Baton Rouge, Louisiana. "Based on great dedication to his community, company, colleagues and the ABC TEXO Chapter, it's apparent that Matt places great importance on making the merit shop industry safer and more forward-thinking. It is also impressive that Matt is heavily involved with youth sports and his company's work in Dallas-Fort Worth community with the United Way, veterans' service organizations and local food banks."
"Recruiting and developing new leaders within our industry is the biggest professional achievement in my career," said Terry. "Over the past 15 years at TDIndustries, I've had the chance to lead many aspects of our construction business in north Texas. Many people have leaned on me for guidance. Now, I look around and see these leaders bettering the communities we work in. This brings meaning and purpose to my career. We have worked on some amazing projects, such as hospitals and entertainment venues, and these environments make our communities thrive. When I have a positive impact on other leaders, our customers and industry partners receive excellent work and value."
Terry supports and works with the Construction Education Foundation, a local trade school in north Texas that heavily promotes the merit shop philosophy and a free enterprise workplace environment. TDIndustries has created its own training facility, TD Exchange, to increase the skills and achievements of its employee-owners. Additionally, Terry is actively engaged in advocacy efforts and promotes the ABC merit shop philosophy.
You might also be interested in...