ABC's 2021 Craft Instructor of the year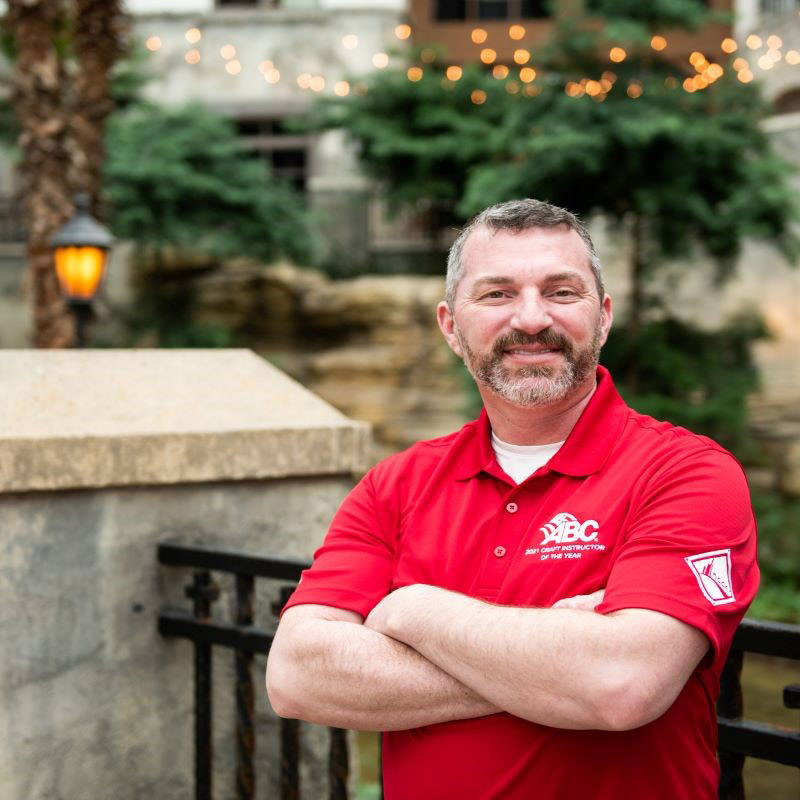 "One of the most rewarding things I can do is excite my students about this career," says Todd Swan, carpentry instructor for Franklin County Career and Technology Center in Pennsylvania. "My favorite part of the job is watching my students capture the knowledge and constantly utilize it in new situations."
From rewarding interactions to 24-hour teaching and adapting to the COVID-19 pandemic, Swan's teaching approach is nothing if not indefatigable—which is just one of the reasons he was selected as Associated Builders and Contractors' 2021 Craft Instructor of the Year.
A CRAFTSMAN AND A SCHOLAR
Post-high school, Swan ventured into the industry for more than 10 years—he started a business, traveled as an architectural administrator for primarily hotels and truly enjoyed the doors opened by a career in construction. Then, the mentor who had conducted Swan's high school carpentry class, Steve Grove, felt that Swan could offer more to the trades than skill alone. And Swan agreed. He took a leap into the field of education and dove right into teaching the carpentry program.
"I was determined to be the best I could be at whatever I was doing at the time. And right now I'm an educator. So I want to be the best educator that I can be," Swan says.
The other side of the coin isn't off-limits either, as Swan as just as determined a learner as he is an educator.
"I believe you've got to be a lifelong learner," Swan says. "I don't care what you do for a living. You have to constantly learn."
With that in mind, he has rigorously added to his teaching credentials, and holds a certificate from Associated Builders and Contractors for commercial carpentry, as well as certifications from the National Association of Home Builders for Green Building and Business Management for the Building Professional. He is currently working on becoming certified as an OSHA trainer. Swan also earned a degree from Pennsylvania State University in work force education. "At this age, being a teacher and being a student seems like the same thing," Swan says. "I have always told my students that they know the material the best when they're able to teach it to someone else. So, for me, teaching is an education for me, too."
24/7/365
As of March 2020, teaching in any capacity—whether higher education or public schools or carpentry and trades—has become complicated and exhaustive. Not only has the COVID-19 pandemic caused a shift in the manner classes are taught, instructors like Todd Swan have also adjusted resources, reallocated funding and spent nearly all of their time guaranteeing access to every student.
"I think all of my colleagues—and every educator right now—is a 24-7 teacher this year," Swan says. Further, Swan says of his colleagues that they are "astounding" people who do "phenomenal" work—and if his nomination for Craft Instructor of the Year is any indication, the feeling is mutual.
The height of difficulty for Swan were the occasions when it was necessary for him to quarantine (in one instance, having contracted COVID-19). Nevertheless, he took to uploading daily videos for his class (which has been alternating half of the students in and half out of the classroom), filming project examples at his home workshop, conducting Zoom lessons every day and ensuring that assignments stick, despite less time in the shop.
"I have become more of a video editor than I ever thought I would be," he says.
Typically, pre-pandemic, Swan's carpentry class would be conducted every other semester for students in the 10th grade and older. They would learn how to create an entire house (from foundation to roof), make cabinets, learn architectural drafting, study high-end finishes and even work with machinery such as CNC routers.
In 2020, during spates where learning was done completely from home, Swan also implemented what he likes to call "enhanced" career and technical education, in which students were encouraged to work on anything that might be carpentry-related around their homes (with supervision, of course).
"Even if it was hanging pictures on the wall, I would allow that instead of posted assignments," he says. "At least they were doing something outside the realm of just sitting in front of a computer."
But in Swan's case, the transition to remote learning was largely seamless due to both his own embrace of construction technology, as well as his employer's willingness to fund those ideas. A project management system was already in place when the pandemic hit, and he has been working with iPad minis in the shop for six years. So when it was necessary for every student to be issued a laptop, it was not a huge shift for students or teacher, and the county's willingness to provide that learning tool kept economic disparity from becoming an issue for students who may not be able to afford the sudden expense.
"In the industry, we are always trying to solve work communication barriers. If we can make platforms effective and accessible then, cost-wise, it will always increase our profit margins because you don't have downtime or mistakes being made," Swan says.
This technological leap is a steppingstone for Swan, who says he fully intends to keep using videos next year—even when students are back full-time. "I'll have lessons already videoed. And if a student is out sick, I can just send them the link. There is also the option to accelerate the curriculum and ensure more shop time. I'm always trying to maximize their amount of hands-on time," Swan says.
You might also be interested in...